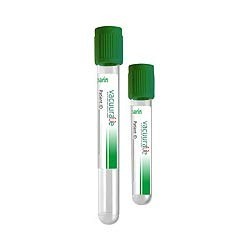 Routine and special biochemical test for plasma
Action principle and advantage : The anticoagulant heparin activates antiithrombins thus blocking the coagulation cascade and produce the plasma.

Additive : Lithium Heparin /Sodium Heparin
Specimen : plasma
Tube Size : 13*75mm 13*100mm 16*100mm
Draw volume : 2-10 ml
Max vacuum degree tolerance : +/- 10%
Draw required volume and invert the tube for 6-8 times gently.
Exam Items : Emergency biochemistry and plasma biochemistry testing.